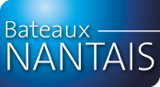 Menu
Gift certificate - Forfait service Premier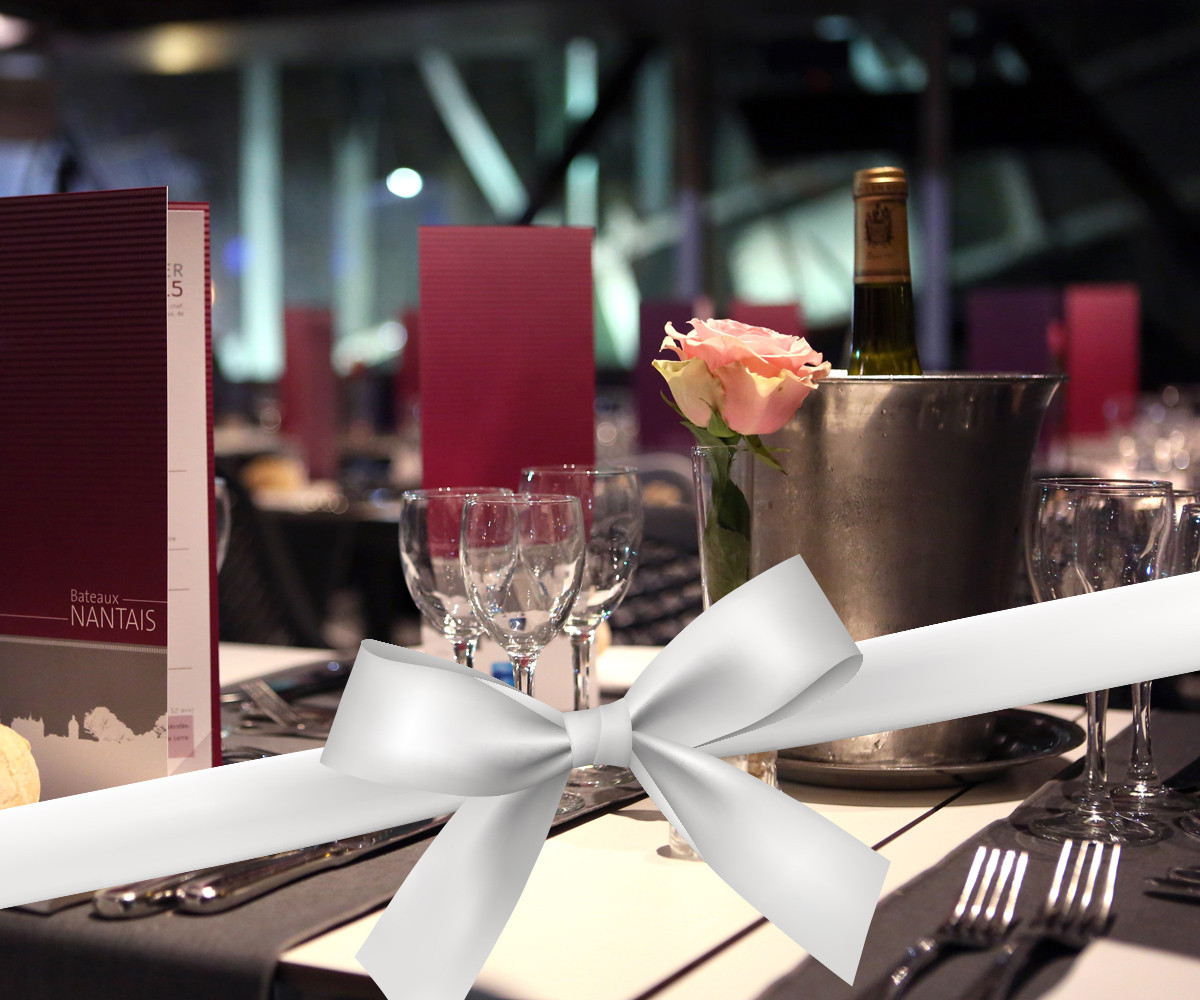 Gift certificate - Forfait service Premier
Lunch or dinner cruise for 2 people.
(Included: Your gift certificate pack delivered to your door ! Value: €4)
More...
Our price list
Our services
Gift certificate valid for 12 months from date of purchase.
For lunch, dinner and Plaine de Mazerolles cruise gift certificates, our prices vary according to your choice of seat, wines and menu.
Please contact us for groups of more than 12 adults. Reservations on +33 (0)2 40 14 51 14
Looking for an original experience in Nantes to give someone? Bateaux Nantais has gift certificates to suit all your needs, whether your gift is a romantic dinner or social lunch!
Give your friends and family the gift of a dinner or lunch cruise on the Erdre so they can enjoy a magical, memorable experience.
The most
Preferred seating by the windows
Champagne with the appetisers and dessert
Appetisers before the meal
Carefully selected fine wines
Elegant décor
Mini pastries
FORFAIT SERVICE PREMIER - SUMMER MENU 2019
(Valid 26 June to 1st October)

Tart, tender crab with cashew nuts and poppy seed crisps
Langoustine with red pesto, seaweed cream and green oil
Vegetable tartare with honey vinegar, curd cheese and rocket
***************
Pikeperch fillet with red butter sauce, baby spinach mille-feuille and selection of cauliflowers
Roast lamb fillet with red curry, creamed yellow carrots and courgettes with quinoa
Duck breast fillet with wheat beer reduction jus, carrot tops and new potatoes
***************
Organic cheese, Nantes lamb lettuce and balsamic vinaigrette
***************
Lime tart with pineapple and Timut pepper tartare and mango sorbet
Raspberry and lychee charlotte
Chocolate finger with basil cream, strawberry compote and strawberry sorbet
Kids menu (ages 3 to 12)
Ham rolled with cream cheese and herbs
Breaded chicken fillet with scalloped potato gratin
Chocolate sponge cake with custard sauce
For groups of 12 or more, one menu must be selected for all diners and specified when booking (discount of €2 per person)
OUR WINE MERCHANT'S SELECTION:

Unlimited wines
Glass of Champagne or other pre-dinner drink of choice
Terre de Pierre muscadet
Château Le Bonnat graves
Mineral water and coffee
A unique experience
with Bateaux Nantais
GIVE A LUXURY GIFT TO YOUR FRIENDS AND FAMILY!
Enjoy an idyllic setting and top quality service during a lunch or dinner on the Erdre that exceeds all expectations. Fall for the charms of the stunning landscape where pleasure palaces proudly line the banks of the most beautiful river in France.
Give the gift of an exceptional cruise along the Erdre! Featuring panoramic views, a special welcome, personalised service, elegant décor, and cosy, inviting ambiance.
Cruising along the Erdre is an opportunity to see outstanding fauna and flora, interspersed with châteaux all as splendid as the last.
The lucky recipients of your gift certificate can simply sit back, relax and enjoy the cruise while dining and being soothed by the Erdre's lapping waves.
And they are free to choose lunch or dinner during the week and on the weekend.
How does it work ?
1/ Order your Premier Dining Package gift certificate online.
2/ Your certificate is delivered in a gift pack by post (gift certificates also available through your online account)
3/ Give your gift certificate as a present.
4/ The recipient of the gift certificate contacts our customer service to select the date for their lunch or dinner cruise and quotes the booking number on the gift certificate.
Times
Boarding : 11.45 am or 7.45 pm (register at reception before boarding)
Place : Place Waldeck Rousseau, Quai de la Motte Rouge, Nantes
Departure : 12.30 pm or 8.30 pm
Return : 3.00 pm or 11.00 pm
Access map
Tram : Line 2, Motte Rouge station
Car :
Friday night to Sunday night :
Free parking available nearby. An access card will be given to you at reception.
Weekdays :
Free parking in some nearby streets or paid parking (9.00 am to 12.00 pm and 2.00 pm to 7.00 pm)
Additional information
Open year round (except 1 January)
Prices include meal, drinks and cruise
Bookings required, subject to availability
Minimum numbers for departure: 30 passengers
For groups of 12+ adults, a single menu must be chosen for all guests when booking
For 10+ guests, seating will be at several tables
Smart attire required
No smoking on boats
No animals permitted
Your meetings
Programme of special events and offers
Professional events
The know-how of Bateaux Nantais for professionals