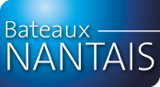 Menu
From August 9, 2021 visitors aged 18 or over will be raquired to present a valid health pass to access our cruises.
_ _ _
OUCH BOAT
From 1 July to 30 September 2021, embark on a cruise during happy hour, embellished
a wine list and local products!
Welcome !


The Erdre River as you like it
All the experiences onboard the Bateaux Nantais
Give a
gift voucher
Looking for an original gift idea for a loved one? Bateaux Nantais offers a broad choice of gift vouchers suited to all budgets.
Give
Customer opinions
They know best